Back Pressure Regulators for Fuel Cells
The Equilibar® precision back pressure regulator is the perfect fit for many fuel cell applications. Fuel cell testing systems, in particular, benefit from the high sensitivity in the low to mid pressure ranges that is lacking in most competitive products.
Low Flow Control
Incredible 1000:1 flow rate turn-down ratio
Equilibar's current "GR" trim was specifically designed in response to the demanding flow rate requirements of the fuel cell testing industry. These GR trim regulators can provide stable stack pressures through ultra wide flow rate ranges required for rigorous test protocols. Gas flow rate control is possible down to below 1 ml/minute.
Request a Quote
Download Brochure
Ease of computer automation
The dome loaded design is sensitive to changes in an Electro-Pneumatic Regulator (EPR) as small as 0.001 psig, giving your process computer unprecedented control of gas system pressures. While most fuel cell testing systems use closed-loop PID feedback on the stack outlet pressure sensor, the incredible precision of the Equilibar BPR would allow for full system control by using only a manual pressure regulator or an EPR with open-loop control
See product details  for our GS ("General Service") Series back pressure regulators.
Contact one of our Applications Engineers to help select the perfect back pressure regulator for your fuel cell application.
Request a Quote
Download Brochure
PEM Fuel Cell Test System by Greenlight Innovation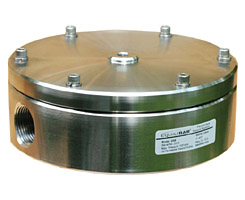 The Equilibar® GS Series is a high performance back pressure regulator ideally suited for Fuel Cell Testing applications.
See Fuel Cell Testing case study from Charles University in Prague
One of our GS series regulators could be a good fit for your fuel cell application.

Port Sizes:

1/2"

Typical Pressure Ranges:

0 - 1 in WC
0 - 10 in WC
0 - 5 psi
0 - 10 psi
0 - 20 psi
0 - 30 psi
0 - 60 psi
0 - 100 psi
0 - 150 psi
0 - 200 psi
0 - 250 psi
0 - 300 psi
0 - 400 psi
0 - 500 psi

Key Applications:
Technical Details
Watch the video below of how the Equilibar Back Pressure Regulator works.
How Equilibar Back Pressure Regulator Works