Many liquid or slurry chemicals are transported and stored between process operations using pallet tanks or drums. The products within these containers often need protection from air and moisture to retain flavors and other properties, and to prevent oxidation and product deterioration. One way to provide that protection is to blanket or pad the contents with an inert gas, but this presents several challenges: adding blanketing gas to the container as product is withdrawn; removing product vapors to a scrubber or recovery unit as product is reintroduced to the container; and prohibiting the introduction of ambient air during container transportation and storage.
Request a Quote Download Brochure
At the Tank Filling Station
When filling a container with product, the blanketing gas or vapors in the head space must be vented to a proper disposal process to meet air quality and safety codes. Connecting the tank to the disposal system though an Equilibar® back pressure regulator (BPR) achieves the goal of retaining a slight pressure on the product container, yet relieving the pressure as the container fills. Equilibar GS series BPRs are ideal for this application and because they are pilot-operated, can be remotely controlled by electro-pneumatic controllers driven by your process computer. The sketch below represents a typical drum or tank filling installation.
In this phase of the process, the product fumes will come in contact with regulator, so the regulator is designed with compatible materials. Equilibar units are available in 316 Stainless steel and PVC or PVDF. The end-user should discuss
Request a Quote
Download Brochure
Emptying the tank
During the emptying of the tank, an inert blanketing or padding gas should be introduced to container to fill the void left by the removal of product to avoid the introduction of moisture-laden ambient air which may change product qualities. Depending on the pressure resistance capabilities of the tank or drum, the pressure required can be as low as 2 in WC. If the container is capable of higher pressures, blanket gas pressure can be used to move the product out of the container. The Equilibar line of products can accommodate either situation.
The blanketing gas is an inert gas and the pressure needs to be precisely controlled. The pressure reducing regulator handles the primary pressure control task; the pressure is fine-tuned by the Equilibar BPR. The BPR should be installed near the product unloading station as shown in sketch below.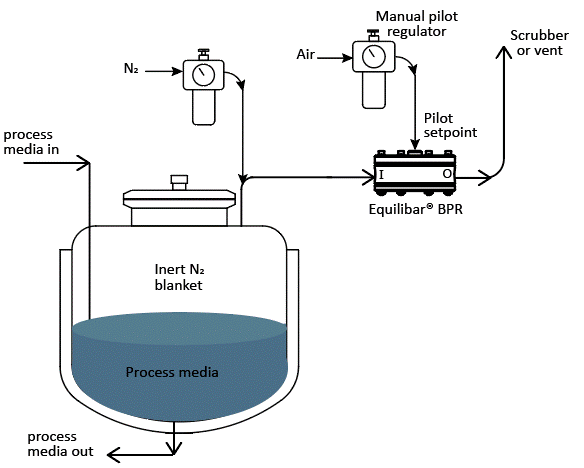 In the unloading phase of the operation, the Equilibar BPR prevents the tank pressure from rising above the safe pressure for pushing the product out of the container. Furthermore, the pressure can be precisely controlled to smoothly force the product from the container.
Request a Quote
Download Brochure
Nitrogen gas pressure control is also important in sanitary applications for tank blanketing during processing and product transfer as well as nitrogen purging for product packaging. Visit the
sanitary tank blanketing
page for more information.
Watch the video below to learn about the different materials of Equilibar BPRs
Stainless Steel / PTFE / Hastelloy Back Pressure Regulators