Equilibar EVR Vacuum Regulators are especially well suited for the complex demands of glovebox pressure control and are capable of controlling vacuum pressure in a glovebox down to the range of 1 inH2O (2 mbar). One of Equilibar's glovebox applications was featured in the
November 2017 Flow Control Magazine.
In many glovebox situations, it is desirable to control pressure differential in order to improve dexterity of the operator's gloves. At the same time, however, it is important to provide for stronger vacuum supply in the event of a compromised glove or opened hatch. A vacuum regulator can restrict the flow to the vacuum fan during normal operations and provide a surge of flow when needed to maintain pressure.
Remote Sense for control across filter
In some critical applications, such as hazardous material handling, a HEPA filter is required downstream of the glove box and before the vacuum supply header or fan. The presence of this pressure drop can be problematic when controlling chamber pressure in the millibar range, and requires the use of a Remote Sense control capability.
The Equilibar EVR comes with a vacuum pilot controller which allows the user to set the glove box set-point. This pilot also monitors the pressure directly in the glove box and automatically adjusts the pressure sent to the EVR dome until the process is at the desired pressure.
Inert Gas Glove Box
Inert gas is required for certain demanding glove box applications. In these situations, the expense of nitrogen or argon necessitates that gas flow is minimized. If a vacuum is also required on the enclosure, the vacuum regulator must be capable of controlling the exhaust flow from a very low value (normal operations) to a high value (during glove failure or hatch open condition).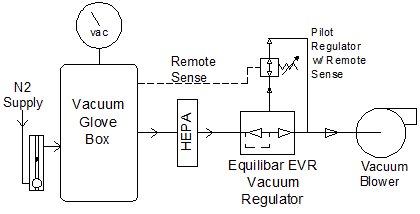 Control pressure ranges for the Equilibar EVR vacuum regulator ranges from approximately 1 inH2O (2 mbar) up through the full vacuum range (30 inHG). For glove box applications, the common range is around 1 to 4 inH2O (2 to 8 mbar).