Using a back pressure regulator to calibrate flow meters helps maintain gas density for higher accuracy. Modern gas mass flow meters typically use a thermal or heat transfer technique for dependable mass flow measurement through wide ranges of flow rates. These mass flow meters depend on constant gas density for accurate calibration.
In the schematic below, a standard or reference mass flow controller is used to provide a known mass flow rate to the instrument to be calibrated. The Equilibar® precision back pressure regulator (BPR) keeps a constant back pressure and therefore gas density on both instruments to calibrate the flow meter accurately. The Equilibar BPR can provide stable back pressure through a wide range of flow rates with turn-down ratios of up to 100:1.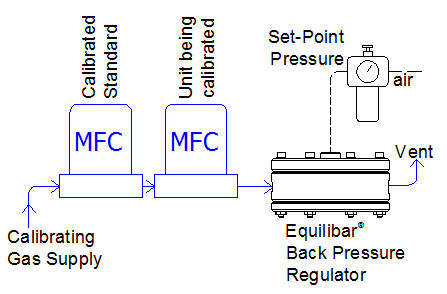 Request a Quote
Download Brochure
​
​​
The Equilibar Difference
Typical spring-type back pressure regulators operate through a relatively narrow flow rate range, such as 10:1. At lower flow rates, they struggle to hold the target pressure and exhibit "under-pressure." As the flow rate increases to the upper end of their range, the spring compresses and the inlet pressure increases ("over-pressure"). This under-pressure and over-pressure dynamics can result in a lengthy mass flow meter or mass flow controller calibration process. The control knob must be constantly adjusted to keep the pressure on target and the gas at constant density.
The Equilibar dome-loaded back pressure regulator doesn't use a spring, but rather uses a dome-loaded fluid setpoint pressure to ensure constant force loading on its diaphragm (see how it works). Unlike other dome-loaded designs, it has unmatched sensitivity down to the ultra low pressure range. It can save significant time and increase the accuracy of gas mass flow controller calibration.
Request a Quote
Download Brochure
Improving Flow Control with Mass Flow Controllers
The difference between an MFM (mass flow meter) and an MFC (mass flow controller) is that an MFC has an integrated flow control valve. However, there are many technical limitations of these integrated flow control valves, including differential pressure requirements and chemical/phase limitations. In many cases, an Equilibar back pressure regulator can be used with a mass flow meter as the active flow control valve for demanding applications. Watch the video below for more information.
Controlling Mass Flow Using an Equilibar Back Pressure Regulator

Contact one of our Applications Engineers to discuss how an Equilibar BPR may help with your mass flow meter application.
Contact Us
Download Brochure