Equilibar offers many pressure control products designed to deliver unmatched precision for high temperature applications such as those in the petrochemical industry and catalyst research laboratories.
Many of Equilibar's Research Series back pressure regulators can be fitted with SS316 diaphragms, which extend the pressure range up to 10,000 psig / 689 bar(g), while also pushing the operating temperature range up to that of Kalrez® O-rings (300°C, 527°F).
While Equilibar's PTFE/Glass composite diaphragms can be used up to 232°C (450°F) at low pressures, the mechanical stress derating for PTFE at elevated temperatures makes the SS316 diaphragm a more practical choice in most high temperature applications. Diaphragms made of Hastelloy C276 are also available for some scenarios.
HT Series Extends Temperature to 450°C
Equilibar's HT Series back pressure regulators utilize a graphite seal for temperatures to 450°C and pressures to 5000 psig / 344 bar(g). The Grafoil GTA seal is nuclear grade purity (99.9% graphite).
C-seal Metal O-rings Can Accommodate Temperatures to 550°C in Certain Applications
High Temperature back pressure regulators are now also available with C-seal metal O-rings. Using these metal seals in combination with full metal diaphragms extends the capability of the back pressure regulator to 550°C.
Contact our engineers for more information on your high temperature application.
Request a Quote
Download Brochure
---
Kalrez® is a registered trademark of DuPont Performance Elastomers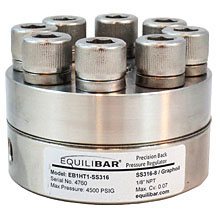 High Temperature HT1 Series
The HT Series uses graphite seals and is capable of temperatures up to 450°C.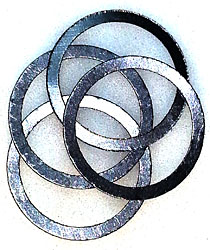 Grafoil GTA graphite gaskets are 99.9% pure and rated for temperatures to 450°C.