Pressure bypass valves serve to control pressure in a system by diverting a portion of the flow. Typically they bypass fluid from the outlet of a pump back to the reservoir.
A pressure bypass valve is essentially a back pressure regulator. Both control inlet or upstream pressure and function by opening just enough to relieve excess pressure on their inlet port. These devices are referred to by different names based on subtle differences in the application or industry.
The schematic at right shows a Pressure Bypass Regulator being used to control the pressure at the exit of a pump. Note that the concept of pressure bypass control works equally well for all types of pumps (i.e. centrifugal pumps as well as positive displacement pumps).
Typical pressure bypass valves use a spring and piston design, and these work well for the most common industrial applications, including traditional hydraulic systems (find traditional pressure bypass valves here)
Request a Quote
Download Brochure
Precision Pressure Bypass Valves
for Demanding Applications
Equilibar offers a unique back pressure regulator that offers several distinct advantages for pressure bypass applications:
See Product Details for Equilibar's back pressure valves and regulators for more information about available models and sizes.
The Equilibar®  precision back pressure regulator can provide highly stable pressure control despite widely varying flow rates. Unlike pressure control valves, which typically require several seconds to adjust to changing flow conditions, the Equilibar has lightning fast response (less than 10 mS). When using Equilibar options, it is possible to rapidly change system pressure and even generate pressure patterns and pulse waveforms.
Equilibar back pressure regulators are currently provided in sizes up to 4″ pipe size. They can receive their 1:1 pilot setpoint signal from either manual air pressure regulators or from electronic pressure regulators. However, larger size regulators can be built upon request. Learn more about our unique back pressure regulator technology  and our product details.
Contact our engineers for additional information about your application.
Request a Quote
Download Brochure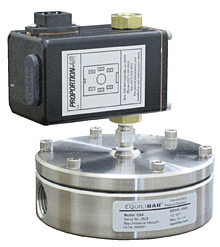 Equilibar precision pressure bypass valve shown in 1/2″ size with computer automated pilot regulator on top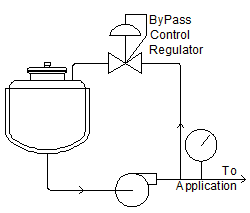 Pressure bypass regulator controlling pressure at the discharge of a pump.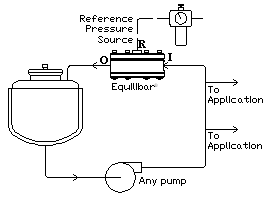 The Equilibar precision back pressure regulator can provide pump bypass pressure control by using an air setpoint signal provided by a manual or electronic pressure regulator.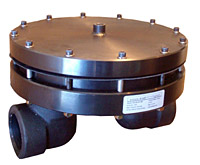 This larger 2″ Equilibar® pressure bypass valve can be piloted manually or electronically to provide accurate pump pressure control.