Equilibar offers a line of products designed to accommodate the rapidly expanding single use technology (SUT) field in the biopharmaceutical industry. Single use systems (SUS) require lower cost components that can be sterilized through irradiation and disposed of after their useful life.
Single Use Valve
The Equilibar® dome loaded multi-orifice valve technology is now available in a single use valve. The patent pending Equilibar® SD series single use valves are manufactured using USP Class VI polymers and stainless steel. The disposable valve body made of polymer is inserted into a stainless steel support housing with wing nut closure for quick and easy assembly. The Equilibar single use valve for bioprocessing systems is a revolutionary design in single use pressure control.
Alternative to a Pinch Valve
Single-Use Pinch valves use external mechanical compression over existing product tubing to control flow and pressure through a single use process line. The Equilibar single use valve is a very precise alternative to a pinch valve. Its award-winning design allows it to be configured for precision pressure regulation or for closed loop flow control. Compared to a pinch valve, the SDO single use back pressure regulator responds to fluctuations more quickly and reaches the desired setpoint swiftly.
How it Works
The SD regulator features Equilibar's patented dome-loaded multiple orifice technology delivering instantaneous control, frictionless operation and superior precision across exceptionally wide flow rate ranges. The stainless steel housing is designed as a permanent part of the process and connects to a dome pilot pressure supply. The disposable body is sold in a pre-sterilized state and comes ready for sterilization up to 50 kGy. See Sample Certificate of Conformance.
Once assembled, simply apply a pressure to the pilot port in the dome of the Equilibar valve equal to the desired setpoint and the valve does the rest. This pilot pressure forces the upper flexible diaphragm down onto a field of orifices. A rise in inlet pressure lifts the diaphragm up to allow excess pressure to be relieved through the outlet orifices. Similarly, a loss of pressure at the inlet causes the diaphragm to be pushed closer to the orifices, restricting flow and rebuilding pressure at the inlet.
Its strengths are particularly well suited to control the transmembrane pressure in tangential flow filtration or cross-flow filtration, and dP control in virus filtration systems.
The video demonstrates the stability and precision control of the Equilibar single use back pressure regulator

In addition to pressure control applications, the Equilibar SD can be used in on/off and flow control applications in single use processes. Potential advantages for on/off applications include the simple construction, ease of computer automation and low pressure drop. The Equilibar SD Single Use valve can control flow across a wider range of flow than other designs and is extremely responsive. Buffer delivery systems in gradient elution applications can benefit from using the Equilibar SD valve to control flow for precision blending.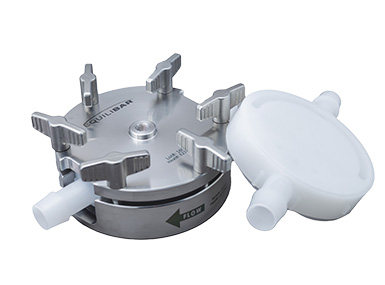 Download a BrochureSpeak to an Engineer
Applications
Single Use Applications Brochure
Key Performance Advantages
Ready for sterilization up to 50 kGy*
Simple compact design
Wing screw closure for easy assembly
Stable across wide flow range
Smooth computer operation
Versatile – pressure or flow control
*SDO not sold as a sterile device.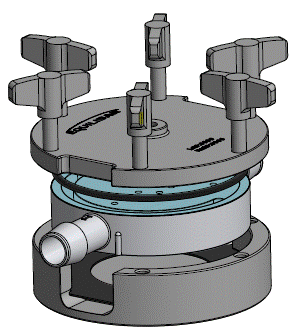 Speak to an Engineer
Looking for 3D STP files
to help with tube set designs integrating the SDO valve?
Go to Downloads Page
SD Series Specifications
Download a brochure or contact an Equilibar applications engineer for more information
Equilibar SDO6 3/4″ single use valve
Contact Us
Looking for a pulsation dampener for single use bioprocessing?
Equilibar engineers have leveraged their fluid control knowledge to design an active pulsation dampener for single use bioprocessing systems. This single use pulsation dampener uses pneumatics and self-adjusts its setpoint to match system pressure in real time to dampen pulsations. This behavior is similar to how the Equilibar SDO back pressure valve dampens pulsations, but is optimized for this dedicated dampening device.
The non-wetted sides of the diaphragms are pressurized with air through a pressure regulator connected to a port on the top and bottom of the stainless steel housing. This patented air balancing system adjusts its internal pressure in response to the force and direction of each pump pulsation against the diaphragms, reducing pulsation amplitude. Early trials have shown >70% reduction on amplitude, and establishes a more uniform pressure profile.
Interested in a precision single use flow control valve?
Using the same valve body, cradle and consumable insert as our Single Use Back Pressure Regulator, the Equilibar valve can be used as an advanced flow control valve for single use bioprocessing systems. The valve is set up in a closed loop configuration with the electronic pilot pressure regulator (E/P) and a flow meter in a feedback control loop.
A proportional-integral-derivative (PID) controller monitors the input from the flow transmitter (FT) and adjusts the pilot pressure to control flow. The E/P translates the electronic signal from the PID into a pressure signal to control the pilot pressure.
This unique configuration offers precision control with 100:1 flow turndown that can't be matched by automated pinch valves, or automated weir style single use valves.