Individual user points are often designed into a WFI distribution loop for easy WFI access. Each point of use valve is a potential source of contamination, so a sanitary valve is required in this application. In some cases it may be beneficial to control flow at a specific user point, in which case a fast-acting precision valve is recommended.
The concept of using an Equilibar FDT valve as a WFI user point valve is in development based on the conceptual schematic below. The idea is that during normal operation, the FDT valve is controlled so the WFI circulates through the distribution loop. When needed, flow is diverted to the user application through the FDT in a feedback loop with a flow meter. Contact an application engineer for more details about WFI.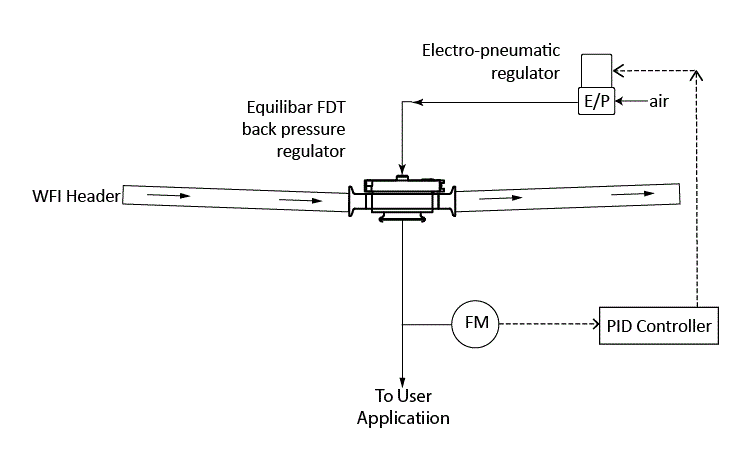 Advantages of the Equilibar design are its small footprint, its high turndown ratio, and excellent response and precision. The electro-pneumatic pilot regulator can be located at the process control system, a distance from the FD valve, for a simple footprint. Equilibar regulators respond instantaneously to changes in flow or setpoint to maintain the desired flow. Because of its lightning fast control capability, the FD regulator has excellent performance in computer automated control processes.
Please contact an Equilibar application engineer to discuss your sanitary process application today.
Equilibar FDO16 sanitary back pressure regulator (series details)
Product Details
Port Sizes:

2"

Typical Pressure Ranges:

0 - 1 in WC
0 - 28 in WC
0 - 5 psi
0 - 10 psi
0 - 20 psi
0 - 30 psi
0 - 60 psi
0 - 100 psi
0 - 150 psi

Key Applications:
Technical Details
Request a Quote Download Brochure
---
Learn more about our back pressure regulator technology and how it works.