Equilibar is proud to offer sanitary back pressure regulators with hygienic features for biopharmaceutical and sanitary industrial applications.
What is a Sanitary Valve?
Sanitary valves are specifically designed for applications requiring hygienic processing, such as those in biopharmaceutical and personal care products. The American Society of Mechanical Engineers (ASME) has a special body of standards called Bioprocessing Equipment standards (BPE) pertaining to equipment used in these sanitary industries. Sanitary valves use design criteria outlined by BPE, making them different from standard industrial valves in material and construction. Sanitary valves must be made of SS316L and Class VI polymers, have a crevice-free flow path, and have easy drain-ability to allow thorough sterilization and cleaning and to prevent contamination.
Equilibar Sanitary Valve Features
The Equilibar® FD Series sanitary valves are machined from stainless steel or Hastelloy and are suitable for use in industries such as personal care products, food and beverage and pharmaceutical manufacturing. Equilibar sanitary back pressure regulators can be used for pressure control or automated flow control operations.
The FD Series valves feature Equilibar's patented dome-loaded multiple orifice technology delivering instantaneous control, frictionless operation, superior precision, and exceptionally wide flow rate range. Equilibar sanitary back pressure regulators offer advantages for sanitary fluid control applications in consumer products and biopharmaceutical production such as gradient chromatography /inline conditioning, tangential flow filtration, and liquid dosing.
FD SANITARY VALVES – PERFORMANCE ADVANTAGES
Traditional back pressure regulators use springs to gradually open up as the overpressure is used to compress the spring. This often results in significant inlet pressure loss with increases in process flow. Equilibar® regulators feature ultra-sensitive diaphragm-operated back pressure technology capable of controlling pressure with high precision over a wide range of flows. They fully open in less than 1% overpressure in most applications.
The graph to the right shows an example of the consistent performance of an FDO6 3/4" sanitary FD regulator controlling water pressure across a wide range of flow.
SIMPLE COMPACT DESIGN
With its simple design, FD sanitary regulators are easy to disassemble for maintenance, reassemble, and return to use quickly and easily. The compact design facilitates a simple process layout.
CIP / SIP COMPATIBILITY
The FD Series sanitary valves are made of SS316L stainless steel and contain USP Class VI diaphragms. The design is compatible with temperatures up to 135°C experienced during steam sterilization, and the valve's wide working flow range allows one FD size to effectively control during high flow CIP rates as well as very low flow dosing rates. The video at the right demonstrates how the FDO8 can keep precise pressure control across a wide range of flow rates from 30 ml/min to 100,000 ml/min. These sanitary valves have undergone comprehensive design and testing to have optimum drainability when oriented with the inlet down. Equilibar FDO cleanability and drainability testing information. 
SMOOTH COMPUTER AUTOMATION
Equilibar FD sanitary back pressure regulators respond instantaneously to changes in flow or setpoint to maintain the desired inlet pressure. Because of its capacity to control within milliseconds, the FD Series is a perfect match for computer automated control. Paired with an electronic pilot regulator, the FD regulator may be connected to the process control system, and it is ready for automation.
Request a Quote
Download Brochure
Product Summary
| Sanitary Model | Port Size | Max Pressure | Cv Range | Body Materials |
| --- | --- | --- | --- | --- |
| FDO2 | 1/4″ | 150 psig / 10 bar(g) | 1E-6 to .35 | SS316L; Hastelloy C; custom |
| | 1/2″ | 150 psig / 10 bar(g) | 1E-6 to 1.0 | SS316L; Hastelloy C; custom |
| | 3/4″ | 150 psig / 10 bar(g) | 1E-5 to 4.0 | SS316L; Hastelloy C; custom |
| | 1″ | 150 psig / 10 bar(g) |  1E-5 to 8.0 | SS316L; Hastelloy C; custom |
| | 1.5″ | 150 psig / 10 bar(g) |  1E-4 to 12 | SS316L; Hastelloy C; custom |
| | 2″ | 150 psig / 10 bar(g) | 1E-4 to 19 | SS316L; Hastelloy C; custom |
| | 3″ | 150 psig / 10 bar(g) | 1E-3 to 36 | SS316L; Hastelloy C; custom |
Request a Quote
Download Brochure
If you don't find a suitable regulator here, please visit
Steriflow
back pressure regulators to learn about the Mark 95 Series.
Application Spotlight – Biopharmaceutical filtration
The Equilibar® dome-loaded back pressure regulator (BPR) offers higher turndown ratio than other valves and can therefore provide precise control across a wide range of flow rates. This makes the Equilibar BPR a superior choice in traditional trans flow or cross flow filtration control.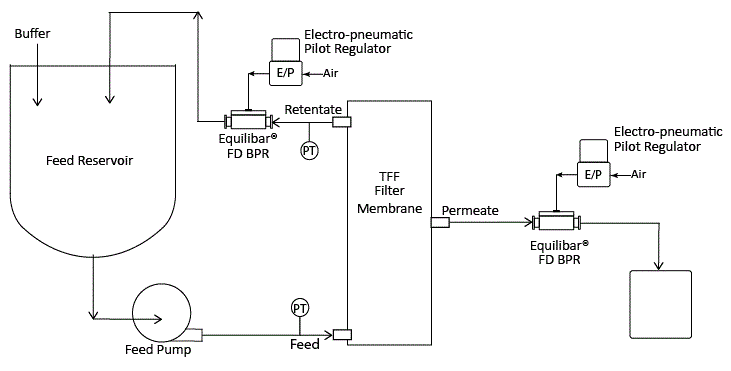 In the schematic above, an Equilibar FD BPR is used in both the retentate and permeate lines at the exit of the trans flow filtration membrane. A setpoint is established on the dome of the BPR using an electro-pneumatic pilot regulator for computer automation. This allows the filtration system to be controlled using differential pressure (dP) mode – the pressure differential between the feed and retentate streams or by transmembrane pressure (TMP) mode – adjusts the retentate control valve to maintain constant TMP. Read more here.
Contact an application engineer to help select one of our sanitary back pressure regulators for your application.
Learn more about our back pressure regulator  technology and how it works.
Member Login
Equilibar – Innovators Serving Innovators
Are you looking for single use bioprocessing valves?
Performance of FDO6 3/4″ BPR with Water

Video showing precise pressure control using an FDO8 valve across a wide flow range
---