Equilibar offers back pressure regulators with extremely low dead volume for use in analytical applications such as High Performance Liquid Chromatography (HPLC). These regulators utilize the 1/16″ HPLC industry standard tube fittings also known Valco-style fittings.
The LVF Series back pressure regulator is a very compact, low dead volume version of our Low Flow, LF series back pressure regulator. It comes exclusively in 1/16″ size ports, either HPLC (10-32) style threads or HiP AF1 style. This unit has a maximum Cv of 0.01 and is available in pressures up to 2000 psig / 138 bar(g).
The LF Low Flow back pressure regulator with 1/8″ NPT pipe fittings has approximately 3 ml of dead volume during normal operation. However, with optional 1/16″ HPLC (Valco-style) fittings, this unit has only 0.2 ml dead volume. The LF regulator is available in pressures up to 1000 psig / 60 bar(g) with liquid flow rates down to approximately 1 milliliter per hour.
The higher pressure H3P and H6P back pressure regulators are also available with Valco-style HPLC fittings with the same low dead volume as the LF regulator, but with pressures up to 3000 and 6000 psig / 207 and 414 bar(g) respectively.
Application in high pressure HPLC Systems
The schematic below shows how the Equilibar® precision back pressure regulator can be used to maintain high back pressure on an HPLC column. High pressures are typically required for systems such as Supercritical Fluid Chromatography, where CO2 solvent must be maintained in the range of 2500 to 6000 psig / 172 to 414 bar(g).
Request a Quote
Download Brochure
Equilibar LVF back pressure regulator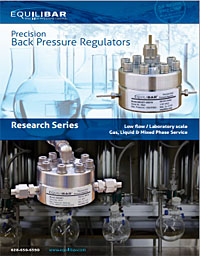 Read more about Equilibar's
Research Series
regulators.
See the Research Series Brochure for more detailed product information.
Contact an application engineer to discuss your specific application requirements.