Pressure Sustaining Valves serve the purpose of maintaining pressure in a fluid circuit by opening only as much as required to maintain the required pressure on their inlet port. The term "pressure sustaining valve" has essentially the same meaning as "back pressure valve" or "back pressure regulator".
Pump Pressure Control
A common application for a pressure sustaining valve is shown in the schematic below. No pump can build its discharge pressure unless there is resistance on its outlet piping. A properly sized pressure sustaining valve can create just the necessary amount of resistance to accurately control pump discharge pressure
The schematic at right shows how the Equilibar back pressure valve can perform this pressure sustaining function. Typical applications include spraying or dispensing of liquids.
Request a Quote
Download Brochure
Equilibar® Back Pressure Valves
Equilibar precision pressure sustaining valves are marketed as often referred to as back pressure valves or regulators. They work in a different way from traditional pressure sustaining regulators. They use a fluid pressure on the top of the diaphragm instead of a spring, and also use direct diaphragm sealing instead of a traditional valve seat. However, their lightning fast response and zero hysteresis give them a real performance advantage  over traditional pressure sustaining regulators or pressure sustaining valves.
If your application requires high precision or has very demanding conditions, the Equilibar back pressure regulator may be ideal.
Request a Quote
Download Brochure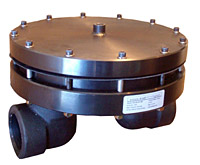 2″ Equilibar® precision pressure sustaining valve in Carbon Steel body. (
product details
)
Schematic showing typical pressure sustaining regulator with PID feedback control

Typical spring-adjusted pressure sustaining valve schematic. When fluid pressure on the diaphragm exceeds the spring force, the valve stem lifts and increases flow to achieve set-point. Pressure is controlled on the inlet port.
Watch the video below of how the Equilibar Back Pressure Regulator works.
How Equilibar Back Pressure Regulator Works