A gradient elution skid
or inline conditioning skid
upstream of the chromatography process adds eluents or buffer solutions at varying ratios and specific timing to perform the gradient elution process.
Buffer solutions are stored in tanks and delivered to the chromatography column based on a preset conductivity profile specific to an elution process.
Positive displacement pumps at the outlet of the buffer tanks deliver eluents and blend them to create the desired conductivity profile over time. While the buffer mixture is out of specification as it changes from one setpoint to the next, it is sent to waste until the conductivity reaches the desired profile setpoint.
One method to achieve the proper blend is using an on/off valve with a timer so that the correct amount of eluent is added. This method delivers only rough precision. Another method is to use a flow control valve which is more reproducible.
Equilibar back pressure regulator as a flow control valve
The Equilibar FD sanitary back pressure regulator can be used as a flow control valve, delivering precise blending and instantaneous response to changes in profile setpoint. The immediate response of the FD regulator controls the upstream process quickly, delivering cost savings due to less waste. The Equilibar regulator can maintain consistent flow over a wide range of flow rates (turndown ratio or 100:1), resulting in fine blending and reproducible results for inline conditioning and gradient elution.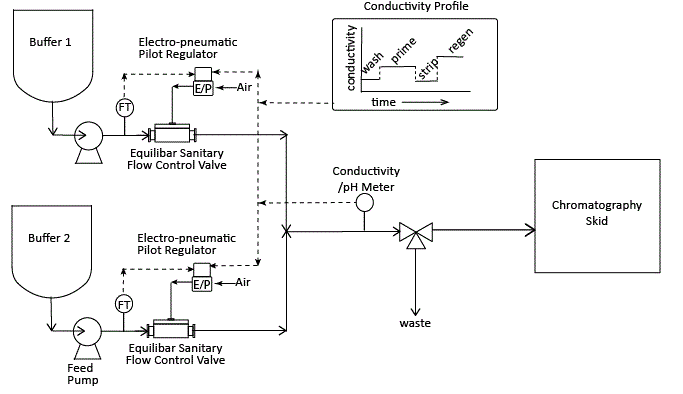 Advantages of the Equilibar design are its small footprint, its high turndown ratio, and excellent response and precision. The electro-pneumatic pilot regulator can be located at the process control system, a distance from the FD valve, for a simple footprint. Equilibar regulators respond instantaneously to changes in setpoint to maintain the desired flow. Because of its lightning fast control capability, the FD regulator has excellent performance in computer automated control processes.
Please contact an Equilibar application engineer to discuss your sanitary process application today.
Watch as we demonstrate how an Equilibar valve is used for inline conditioning

Contact Us
Request a Quote Download Brochure
---
Learn more about our back pressure regulator technology and how it works.