A common industrial application for vacuum is that of holding objects during processing or during positioning. This includes controlling vacuum table, vacuum conveyor or vacuum pick and place operations.
In most vacuum workholding applications, flow rate and pressure vary significantly during start-ups or disruptions in the manufacturing process. While some vacuum applications are tolerant to this pressure variation, other processes require good vacuum control to preserve product quality. Industries requiring better vacuum performance to handle sensitive objects include semiconductor, electronic circuit board and soft or delicate food processing.
The Equilibar® Vacuum Regulator (EVR) is a good solution in these applications.
Application Spotlight: Vacuum Hold Down Table Control
Vacuum table applications often pose a difficult pressure control challenge, especially when they involve thin membranes or silicon wafers being placed on and off the table. Flow rate fluctuates rapidly as the number of open holes in the table vary as membranes or wafers are placed on and off the table during processing. This fluctuation in flow would cause an unregulated system to fluctuate in vacuum pressure, resulting in changes to suction force on the sensitive parts. Suction variations can have adverse quality control issues, especially if the parts can be damaged from over-pressurization exposure to high vacuum.
The solution is to use a vacuum regulator that is quick to respond to rapid system changes during parts loading and unloading. The EVR is the perfect solution with its ability to immediately open and close when it senses a disturbance in order to maintain precise vacuum table pressure control.
The EVR is capable of providing stable pressure across the vacuum table even when the flow rate varies by 100:1 ratio. The schematic below shows the proper placement of the vacuum regulator between the vacuum pump and the vacuum holding process. In this configuration, the EVR vacuum regulator is modulating flow to the vacuum pump in order to control the vacuum pressure at the table.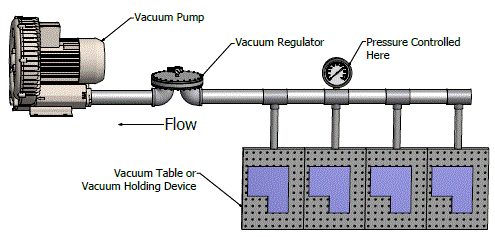 video demonstration of vacuum holding
Application Spotlight: Vacuum Pick and Place
Vacuum pick and place operations require nimble and fast control of both the picking plunger and the vacuum suction pressure. Equilibar multi-orifice vacuum regulators (EVRs) are designed to regulate vacuum to compensate for changes in system flow rate and pressure. In pick and place operations, this provides a few key benefits:
Picker will reach the desired vacuum suction setpoint quickly.
Vacuum suction setpoint will be maintained through changes in flow rate when different pick and place modules come on and offline.
Vacuum will stay on target if a plunger misfires and disrupts the process pressure.
As an example, an Equilibar EVR may be used for vacuum control in a circuit board or semiconductor manufacturing facility. Consider that different processes in this type of precision operation, such as pick and place or a vacuum conveyor belt system, have different vacuum setpoints but are all connected to a main central vacuum system. One EVR can be used at each process to regulate the vacuum pressure for that specific process setpoint. As processes are turned on and off and the load on the central vacuum changes, the EVR compensates to keep the setpoint precisely on target. As items are picked and placed, the EVR maintains the proper setpoint so as not to damage the sensitive circuit boards or other materials. See example schematic at right.

Contact an Equilibar application engineer
to discuss your vacuum holding or picking process.
Request a Quote Download Brochure
Benefits of Using Closed Loop Vacuum Control
If the application requires very sensitive vacuum control, often in the inches of water range, the Equilibar performance can be improved further with with closed loop feedback. Oftentimes, there will be unavoidable pressure drop in the vacuum table, process piping, or other restrictions that would otherwise throw off precision in open loop control mode. Equilibar offers its vacuum regulators with an electronic or manual pilot regulator, that allow for remote sensing.
Closed-loop control with remote sensing offers two key benefits:
Pressure can be controlled at a location farther upstream from the location of the vacuum regulator.
The capacity and precision of the vacuum regulator is further increased.
Explore product details for Equilibar's EVR vacuum regulators and vacuum valves
Learn more about how Equlibar® vacuum regulators and valves work
Contact an application engineer to discuss your vacuum process.