Using a BPR for Pressure Control in an Extrusion
In many tubing and extrusion applications , maintaining dimensions is critical and difficult. This challenge is critical if the extruded material has little hot strength or is prone to sticking to itself. To increase control, air can be introduced into center space (lumen), but the pressure must be closely controlled and must self adjust to downstream perturbations such as caused by cutoff machines or saws and variations in windup processes.
The installation of an Equilibar® low pressure control system to control the pressure of the air inside the extrudate gives precise control of the dimensions and allows more repeatable process startups.
As the schematic below illustrates, a controlled air flow is introduced into the extrusion die from a source such as a rotameter or needle valve. The optimum flow rate is just greater than the maximum flow anticipated by the application. The Equilibar precision back pressure regulator controls the die pressure explicitly by venting all excess gas not needed by the extrusion process. The back pressure regulator opens up just enough to maintain tight pressure control at the die. The high flow capacity and lightning fast response of the Equilibar prevents momentary disruptions in pressure that could cause wall thickness variation.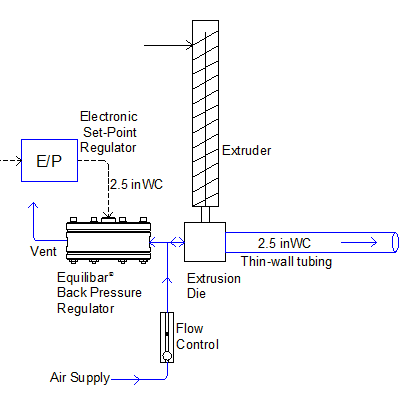 The Equilibar back pressure regulator is dome-loaded, meaning that it gets its set-point signal from a remote air signal. This schematic shows a computer automated process with an electronic pressure regulator supplying the set-point signal to the Equilibar. However, this pressure can easily be supplied by a manual air pressure regulator such as the Equilibar LPR2.
Request a Quote
Download Brochure
Glass Blowing Pressure Control Applications
Industrial glass blowing processes have some of the same challenges as tubing extrusion processes. It is critical to maintain the gas pressure inside the molten glass at the specified value. However, there are several sources of flow disturbances than can easily cause pressure variations. Because of the rapid expansion of gases when they come into contact with very hot surfaces, traditional pressure reducing regulators or mass flow controllers are not able precision pressure control.
The Equilibar back pressure regulator serves as a precision glass blowing pressure control system in a manner very similar to that described above. By sizing the GS Series back presure regulator generously, it is possible to virtually eliminate the high pressure spike causes by thermal expansion.
Learn more about Equilibar's back pressure regulator technology .
Learn more about low pressure solutions from Equilibar
See also Extrusion with Vacuum Sizing Box application.
Contact our engineers to discuss your unique application.
Request a Quote
Download Brochure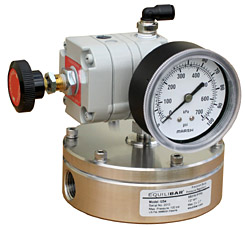 The Equilibar® GS Series precision back pressure regulator shown with a manual set-point regulator kit.
One of our GS series regulators could be a good fit for your refrigerant application.

Port Sizes:

1/2"

Typical Pressure Ranges:

0 - 1 in WC
0 - 10 in WC
0 - 5 psi
0 - 10 psi
0 - 20 psi
0 - 30 psi
0 - 60 psi
0 - 100 psi
0 - 150 psi
0 - 200 psi
0 - 250 psi
0 - 300 psi

Key Applications:
Technical Details
Watch the video below of how the Equilibar Back Pressure Regulator works.
Equilibar Low Pressure High Flow Regulator