Extrusion Control with Vacuum Sizing Box
Many polymer extrusions, such as PVC pipe are made by the use of vacuum sizing boxes to expand the extruded shape onto an external die before cooling. As with positive pressure tubing extrusion applications, it is important to maintain good pressure control to achieve good process control.
The Equilibar Vacuum Regulator has been demonstrated to improve product quality by tightly controlling vacuum in the sizing box. Equilibar's Vacuum Regulator uses the same technology as our back pressure regulators, though redeployed into the vacuum range.
Request a Quote
Download Brochure
As shown in the schematic below, the Equilibar vacuum regulator is installed between the vacuum pump and the sizing box. Because the Equilibar Vacuum Regulator is extremely stable over widely varying flow rates, the pressure in the vacuum box is maintained in a tight range even during process excursions.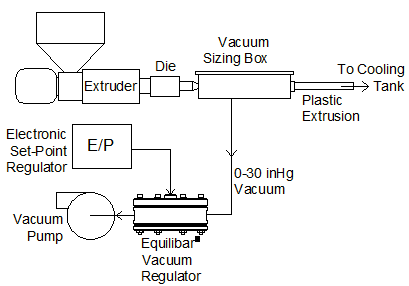 To enable process automation, the set-point signal is again shown provided by an electronic pressure regulator, though manual vacuum regulators would work as well.
Learn more about Equilibar's vacuum regulators
See also Extrusion positive pressure control application. In positive pressure extrusion applications, air is introduced into the lumen to prevent collapse of the structure while the polymer is cooling. Precise control is needed, especially during disruptions caused during the cutting and clamping of the tubing. In many positive extrusion applications, tubing is produced with mulitiple lumens.
Request a Quote
Download Brochure