3D Model SS316: Click arrow to load. Double rectangle for full screen.

Your browser does not support iframes.
Your browser does not support iframes.
GSD2 General Service Back Pressure Regulator
Port Sizes:
Max Pressure (Std Body Mat'l)
Body Material (Standard):
Body Material (Optional):

Hastelloy C276, Monel, Anodized Aluminum, PVC, PVDF, PEEK, PTFE and other custom materials

Max CV:
Key Applications:

Pilot Scale Reactors

High Viscosity Media
Product Description
The GSD2 is one of the most popular back pressure regulators because it is useful for larger research applications and has high enough capacity to control small industrial fluid systems.
GS Series Back Pressure Regulators
The GS Series back pressure regulators are used for gas, liquid or mixed phase fluid control and are ideally sized for pilot plant or manufacturing scale applications. They range in port size from 1/4″ to 1″.
Back pressure regulators control their inlet pressure to regulate the upstream process by opening up only as much as necessary to hold back the desired pressure at the inlet.
The GS series design uses Equilibar's unique patented multiple orifice, direct sealing diaphragm technology to control back pressure with great accuracy even where high temperatures, aggressive chemicals, mixed phase media, or other demanding conditions exist.
Equilibar GS Series units are 1:1 dome-loaded, meaning that a gas or air "pilot" pressure must be supplied to the dome of the BPR equal to the desired inlet setpoint. This pilot pressure can be supplied by a manual pressure regulator or by an electronic pressure regulator for computer automation.
Contact an application engineer for help finding the right back pressure regulator for your process.
Videos
Control the Flow of a Pump With a Back Pressure Regulator


How Equilibar Back Pressure Regulator Works

Downloads
Applications
Additional Specs
Weight:
2.41 lbs (1.09 kg)(SS); .70 lbs (0.32 kg)(PVC);
Dimensions: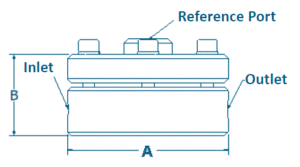 Metal Models
DIM A – 3.00 in (76 mm)
DIM B – 1.34 in (34 mm)
Polymer Models
DIM A – 3.25 in (83 mm)
DIM B – 1.58 in (40 mm)
PTFE Models
DIM A – 3.25 in (83 mm)
DIM B – 1.62 in (41 mm)
Fitting/Threads:
Standard: 1/8″ NPT
Optional: 1/8″ BSPP; Swagelok VCO®; Swagelok VCR®; SAE; Tube Stub
How It Works
Related Products