Equilibar – Older News Items Archive
Flow Control Video
David Reed is featured in our second video, a technical explanation of how a back pressure regulator can be used as a flow control device.
Equilibar Launches Introductory Video
In early October, Equilibar introduced the first in a series of informational videos about our high precision pressure control endeavors. The introductory video, Equilibar, Manufacturer of Precision Back Pressure Regulators, presents our company's mission and philosophy and features many of our dedicated team members.
Stay tuned for more short technical videos explaining how our regulators work and how they can be used to solve the most demanding applications in industry and research.
Larger regulators open opportunities
Equilibar has expanded its standard offerings of back pressure regulators to include 4-inch body sizes. Prompted by successful experiences with customers using larger BPRs for expanded capacity, Equilibar has upscaled flow capacity without compromising the precision pressure control component of its most popular regulator. This ability means that a successful research-scale project may now be taken to a full capacity project without a deterioration in quality. For example, research reactors may be scaled to pilot plant sizes without the uncertainty of changing pressure control technologies.
"The implications of this development are far-reaching," noted David Reed. "Fuel cell research can be scaled to power city buses or hospital back-up stations. Pilot plant operations may be scaled successfully to full production valve sizes without worrying that the pressure control will change process variables."
Of course, all sizes of Equilibar® BPRs retain the same elegant design and simple in-line maintenance procedures. We invite existing Equilibar customers with potential applications for our larger regulators to speak to our Applications Engineers to see if we can meet your needs.
Reed joins Equilibar as Operations Manager . . .
We are excited to introduce David Reed, Equilibar's Operations Manager. David has 18 years of experience providing superior engineering and customer service to the pressure control industry. He holds a BS in mechanical engineering from Purdue University and since 1994 has worked for Proportion-Air, an innovative leader in electropneumatic controls and one of Equilibar's key strategic partners. He has served as vice president of engineering for Proportion-Air since 2009.
"David will strengthen Equilibar's position in the growing computer automation arena and will bring valuable sales and management expertise," noted Equilibar president and founder, Jeff Jennings. "We also look forward to continuing our relationship with Proportion-Air through projects that synergistically combine the two companies' technologies. David is uniquely qualified to oversee these and other innovative projects in a rapidly growing number of markets."
David said he sees enormous potential for expanding Equilibar applications in both established and cutting-edge technologies around the world.
"I'm thrilled to be joining the Equilibar team and I look forward to getting to know our customers very well," he said. "I'm also enjoying exploring the beautiful Blue Ridge Mountains of Western North Carolina with my three children. I have a lot of positive energy about the many new opportunities that await me here."
Flow Control Magazine publishes 2nd cover article by Jennings
An article by Equilibar president Jeff Jennings entitled "Calibration Considerations – An alternate approach for calibrating mass flow controllers"  has been published by Flow Control magazine in the June 2012 edition.
The article details several ways in which precision back pressure regulators can be used to improve the accuracy and efficiency of the mass flow meter calibration process. Featured on the front cover and their web edition, the piece includes a case study featuring the Equilibar BPR.
Learn more about using the Equilibar BPR in calibration applications.
---
Equilibar Sponsors High School Robotics Team as
Investment in Technology's Future
Equilibar Precision Regulators is proud to be one of several corporate sponsors of Gorillaz, the 2012 Robotics Team of Henderson County Public Schools ( team page). The team has designed and built a robot that will compete against other North Carolina high school team robots this spring through the FIRST Robotics Program.
"In recent months, U.S. manufacturing has begun to accelerate, highlighting a critical need for engineers and technical workers," noted Equilibar President Jeff Jennings. "The FIRST Program offers an exciting hands-on introduction to science and technology for high school students who are considering what careers they will pursue. We believe such programs are vital for the future."
Read press release including team photos
---
Equilibar featured in Astrophysical paper at ASME Symposium
The Equilibar back pressure regulator was featured in a presentation to the American Society for Mechanical Engineering's 2011 International Mechanical Engineering Congress & Exposition in Denver, Colorado in November, 2011.
The paper, entitled "Cryogenic Temperature Stabilization of the Daikin 308 Cryocooler" was authored by Michael Smith of Harvard University (primary) and Equilibar's Jeff Jennings.
The presentation details how the Equilibar BPR was successfully used to stabilize cryogenic temperatures in an astrological sensor by controlling Helium gas pressure in the range of 4 degrees Kelvin. An increase in temperature stability of 66% was reported by the study, which was conducted at the Harvard-Smithsonian Center for AstroPhysics.
---
Equilibar to release new "Zero Flow" regulator at 2011 Chem Show
Equilibar proudly announces the release of its new ZF Series back pressure regulator, which holds precision down to the Zero (0) Flow range. We will be demonstrating this exciting new product at the 2011 Chem Show in New York City November 1st through 3rd.
The patent-pending ZF Series is targeted at research applications with intermittent and ultra low gas flows, such as oil reservoir core analysis. Standard pressure range is between 10 psig and 1500 psig. It can also be used for certain corrosive and high temperature applications. See ZF cut sheet for more details.
"This regulator is allowing us to measure (core) samples that were thought impossible with steady state techniques" reports a researcher at an East Coast energy development corporation.
Stop by and visit us at the Vindum Engineering Booth #728 at the 2011 Chem Show in the Jacob Javits Center.
Contact us to learn more about the ZF or to arrange a custom demonstration at the show.
---
New Organ Transplantation product shares Equilibar technology
Smart Perfusion, LLC has introduced the new VasoWave™ system, which is designed to extend organ life outside the human body by emulating the arterial and venous pressure waveforms of the human heart. The system is based on the same pressure control technology as the Equilibar. Its ultra sensitive pressure regulator provides an unmatched degree of sensitivity and responsiveness to the waveforms, which can be carefully customized by physicians to optimize organ response.
This is the most sophisticated heart/lung emulation system in the world, says Dr. John Robertson, Chief Science Officer for Smart Perfusion.
Smart Perfusion has licensed this patented pressure technology for all medical applications, whereas Equilibar has licensed all industrial and non-medical applications.
---
Flow Control Magazine published cover article by Jennings
An article by Equilibar president Jeff Jennings entitled "Low and Ultra-Low Pressure Control" has been published by Flow Control magazine in the March 2011 edition.
The piece surveys several of the existing and emerging methods for low pressure control, including Equilibar's QPV electronic regulator and Equilibar's unique dome-loaded back pressure regulators. The article is featured on the front cover.
---
Equilibar to exhibit at Pittcon 2011
Equilibar will be presenting our first trade show booth in Atlanta March 14 through 18 at Pittcon 2011. We will be demonstrating computer automated control of gases and mixed phase regimes. If you are attending Pittcon, be sure to stop by Booth 2023 and meet some of our team.
---
BioGas Generator uses Equilibar to improve engine control
November 2010
The Gloversville-Johnstown waste water treatment plant in New York has installed a 2″ Equilibar back pressure regulator to provide improved biogas pressure control feeding its Caterpiller electrical generators. The regulator is being used to even out uneven gas production coming from the anaerobic digestor.
---
Equilibar introduces the GS Series Back Pressure Regulators
September 2010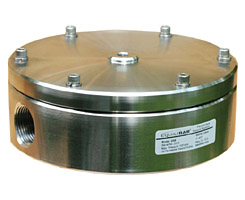 A new regulator series has been added to the Equilibar product line. The GS (General Service) series offers the same patented features the NL Series, such as 5 times more precision than spring type regulators, wide flow range for a given size, and the proven elegant frictionless design. In addition, this new family of products is smaller, simpler to rebuild, and fits into tight spaces. We have eliminated the chatter suppression which is not required for gas or mixed-phase services. We are stocking the SS316 and PVC components of the GS series to enable us to promptly assemble regulators to your requirements.
See the GS Series brochure.
---
New Applications Engineer joins Equilibar
March 2010
Those of you who have contacted us by telephone lately might have heard a new voice. The voice belongs to Tony Tang a 2009 graduate of North Carolina State University where he received a BS in Mechanical Engineering. Tony joing Equilibar in March as an Applications Engineer and has already made a solid contribution. He feels that working for a small company gives him a great opportunity to learn and adapt in all areas of business.
His main responsibility is to help customers determine the best regulator for their application and provide engineering support. He also prepares quotes, proposals, helps with engineering testing and development. Tony is a native North Carolinian having been born in Hendersonville where he still lives just down the road from Equilibar's office in Asheville, NC.
---
Electronic pressure regulators control down to 0.5 inWC (0.02 psi)
August 2010
Equilibar's new QPV ultra resolution electronic pressure regulator  can be outfitted with a pressure transmitter as low as 0-4 inWC (0.15 psi). This allows for the this ultra resolution device to function well below 1 inWC (0.02 psi) without losing significant accuracy.
These devices are primarily intended for very low flow inert gas applications, such as laboratory test chambers. If automated control of process gases or higher flow rates are required, it is possible to couple the QPV with a sensitive dome-loaded regulator.
---
New ultra resolution electronic pressure regulator
July, 2010
Innovative electronic pressure regulator has dramatically improved resolution for high precision applications. The QPV/MPV Series uses servo valve technology, like many other competitive products. However, this model uses a method of partially opening the servo valves which allows for resolution as tight as 0.005% FS.
The QPV/MPV is ideal for providing the set-point pressures for dome-loaded regulators such as the Equilibar precision back pressure regulator. Because the Equilibar has ZERO deadband or hysteresis, it can make good use of the added resolution from the QPV.
In addition, some electronic pressure regulators require a large downstream air volume in order to prevent control oscillations. However, the QPV/MPV regulators are well adapted for the zero flow/low volume Equilibar application.
Learn more about ultra resolution electronic pressure regulators.
---
100% PTFE and aggressive chemistries
June, 2010
Most 100% PTFE fluid controls sacrifice precision in order to maintain high purity or compatibility with aggressive chemicals. Equilibar's unique and elegant  precision back pressure technology  allows for the same unmatched precision with 100% PTFE constructions  as with standard body and diaphragm materials.
Most designs required no wetted o-ring, allowing for only two wetted parts: the body and the diaphragm. Suitable for ultra low pressures (0.02 psig) up to about 50 psig (where the pipe threads become marginal).
For higher pressure aggressive applications, Equilibar offers PTFE diaphragms with bodies of SS316L or Hastelloy C276 (or other available machinable alloys). Where o-rings are required (in some designs), o-rings of Viton or Kalrez are available.
---
High Pressure Back Pressure Regulators
May, 2010 Jeff Jennings
Customer demand has lead to the expansion of the Equilibar precision back pressure regulator from 1000 psig to 5000 psig.
Our EB1LF1 and EB1HF1 area used in standard application up to 1000 psig, and up to 2000 psig with steel alloy fasteners. These units require no wetted o-ring.
However, our new EB1HP1  design is rated up to 5000 psig using Stainless Steel diaphragms (SS316 or SS304). The EB1HP1 does presently required a wetted o-ring (Viton, PTFE, or Kalrez if necessary).
Performance test data strongly suggests that the precision of these high pressure designs equals or exceeds that of the standard models. These recent tests show Cv performance down to at least 1E-8 (perhaps lower, we can?t find a rotameter small enough to find the bottom; we need to source another type of instrument). We were surprised to find the metal diaphragm performing down to this ultra low flow rate.
---
High Frequency Pulsations
April, 2010
Recent customer test data shows that the Equilibar precision back pressure regulator is able to easily control liquid pressure pulsations at 20 cycles/second (hertz). The reference pressure was created pneumatically by use of a high speed air servo valve. For pulsation frequencies up to 4 cycles/second, consider using a traditional electro-pneumatic control valve (I/P or E/P).