About Electronic Pressure Regulators
(Servo or Solenoid Valve Mechanism)
In the past decade, the fastest growing type of electronic pressure regulator has been the servo valve design which uses two high speed servo or solenoid valves to increase or decrease gas pressure as needed to maintain pressure.
These electronic pressure regulators offer higher pressures and more flexibility and robustness than previous technologies, which were often marketed as electro-pneumatic transducers ( see how simple electro-pneumatic pressure transducers work)
These devices are called by many names, including:
Electronic pressure controllers
Electronic pressure valves
Electronic pressure transducers
Electro-pneumatic transducers
On this website, the term Electronic Pressure Regulator (EPR) will be used to refer to pressure controllers using servo or solenoid valves. Equilibar offers electronic pressure regulators in a variety of ranges: below 150 psi, up to 500 psi, up to 1000 psi and as high as 3000 psi max.
How Electronic Pressure Regulators work
Servo electronic pressure regulators (EPRs) work by using a push valve and a vent valve to maintain the outlet pressure at the desired set-point. A small internal pressure sensor monitors the output pressure and a digital or analog controller adjusts the timing of the servo valves to maintain the set-point.
These EPRs typically require a DC power supply and a set-point signal. Analog controllers typically accept either current (4-20 mA) or voltage (typically 0-10 or 0-5 VDC) input. Models with digital circuits can accept serial communications (such as RS-232 or DeviceNet) in addition to the common analog standards. Most models also offer a feedback signal informing the pressure sensor value.
There are several critical parameters for the successful application of this technology. The orifices in these valves come in several different sizes and should be matched according to the required flow rate. . The volume of the gas space can affect the tuning of the valves.
For some models, gas volumes less than approximately 1 liter can cause issues such as "buzzing" or frequent and unnecessary valve action. Some models include a small bleed valve (vent a small amount of gas to atmosphere) for very low or no flow applications.
The solenoid valves are rated for lifetimes in the range of 25 to 150 million cycles.
These servo EPRs allow for output pressures significantly greater than previous pressure transducers. Most manufacturers have maximum output pressures in the range of 600 to 1000 psig / 41 to 68.9 bar(g).
2-Loop Electronic Pressure Regulators
An available option for most EPRs is that of 2-Loop control, which uses an external feedback signal. This approach is useful where the pressure must be maintained in a location removed from the location of the EPR, or where the customer has a higher quality pressure transmitter than provided in the EPR.
These devices typically continue to refer to the internal pressure sensor to control the valve timing, but bias the signal from the internal pressure signal as necessary to match the external feedback signal to that of the command (set-point) signal.
In the schematic at right, an external pressure transmitter is connected directly to the process, and provides feedback to the controller.
Interestingly, it is possible to use these devices to control phenomena other than pressure. For example, it is possible to control linear air cylinder movement by sending a linear displacement feedback signal to the EPR. The controller will adjust the output pressure as necessary in order to match the displacement feedback signal to the set-point signal.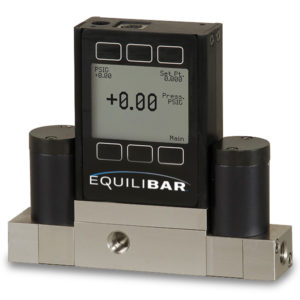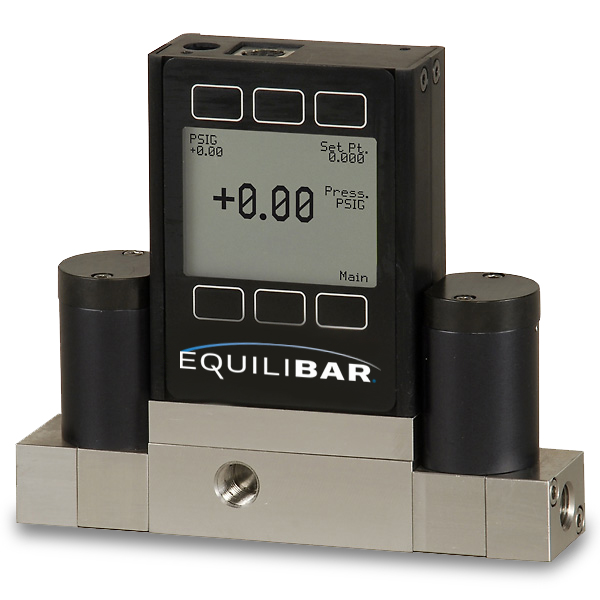 Electronic Pressure Regulator
EPRs use fast acting servo valves to precisely control pressure.
---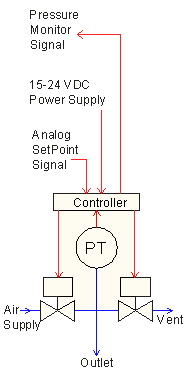 How EPRs Work
Electronic pressure regulators use a pair of high speed servo valves to push and vent gas to the outlet port.
---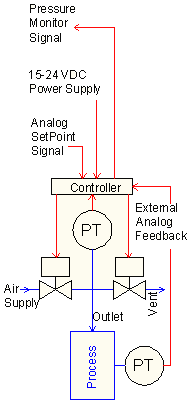 Closed loop control
2-loop electronic pressure regulators work in a similar way, but control their output to satisfy an external feedback signal