Electronic Back Pressure Regulators
One advantage of using a dome-loaded back pressure regulator is the freedom to choose the type of dome setpoint option for each individual situation. Equilibar provides a complete solution for electronic back pressure control by offering a selection of electronic pressure regulators to control the dome setpoint signal.
Request A Quote
Flexibile Control Options
Designing a pressure control system can be a long-term project with frequent specification changes. An Equilibar® back pressure regulator can simplify this process with both its high flow turndown ratios and flexible setpoint options. The dome-loaded design allows initial setup with a manually controlled system, then subsequent setup with electronic control without having to purchase a new back pressure regulator.
Example Applications
Dome-loaded Back Pressure Regulators
Liquid Pump Application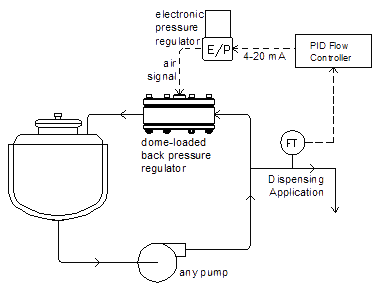 The schematic above shows how a dome-loaded back pressure regulator can be used to control the flow rate to a dispensing application. Instead of using a complex variable speed pump, the output pressure of any type of pump can be controlled by the BPR, which allows only enough fluid to return to the supply vessel as required to limit the dispensing pressure. The PID flow control loop controls the signal to the electronic pressure regulator, which thereby controls the setpoint of the dome-loaded BPR with an air pressure signal.
While this example does use a PID flow controller, the reaction time of this system is infinitely faster than that of a PID controlled control valve. That is because the control valve action has to swing suddenly with every change in dispensing flow rate. However, the BPR will hold the header pressure constant without any change in controller output. The PID is therefore only used for small adjustments to the header pressure, and can be tuned slower while also enjoying instantaneous reaction from the regulator.
---
Dome-loaded Back Pressure Regulators
Gas Reactor Application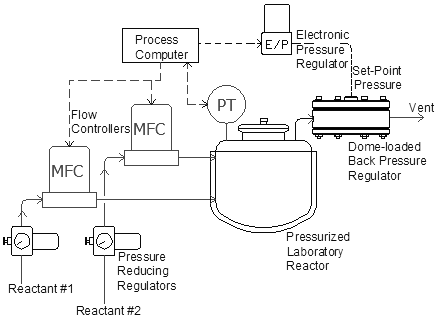 The schematic above shows an electronic pressure regulator and a dome-loaded back pressure regulator controlling the pressure of a laboratory reactor, such as might be used in catalyst research. Two separate Mass Flow Controllers (MFCs) are used to inject reactants into the vessel. The vessel pressure is monitored by the process computer. The pressure in the reactor is commanded by the computer through an electronic pressure regulator, which produces an air or nitrogen pressure signal to the dome-loaded BPR. The BPR allows only enough gas to escape from the reactor to precisely maintain the desired pressure setting.
---
Learn more about Equilibar's ultra sensitive dome-loaded back pressure regulators.
Contact an application engineer to discuss your specific application.
Electronic Back Pressure Regulator
Back pressure control is conveniently achieved by directly piloting the Equilibar valve with an electronic pilot regulator such as the Equilibar QPV shown here.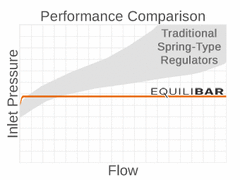 The Equilibar back pressure regulator provides stability through 1000:1 flow rate range.
Click the Video Link to See How an Electronic Back Pressure Regulator Works
Other Equilibar Back Pressure Products: