Like our unique
back pressure regulator technology
, the Equilibar® vacuum regulator (EVR) uses multiple orifices sealed by a flexible diaphragm instead of a single large valve seat. The Equilibar is dome-loaded by a pilot regulator setting the vacuum setpoint. As flow requirements change, the diaphragm moves a few millimeters to open and close over some or all of the orifices, providing instantaneous and frictionless control. The pilot setpoint pressure may be set with a manual or electronic vacuum pilot regulator.
EVR is available in sizes from 1/4″ to 4″ ports. Starting at $600, they offer a good option for complex vacuum applications where conventional solutions have not worked.
Learn more about how EVR works.
How to choose a vacuum pilot regulator
The pilot vacuum pressure on the dome may be regulated using a manual or an electronic vacuum regulator and may be operated in open loop or closed loop control schemes. The vacuum pilot control choice depends on the application performance requirements. While all of the choices have continuous air ingestion from atmosphere, they vary in intake rate. Read more about various types and specifications of vacuum pilot regulators to control the EVR vacuum pressure.
Equilibar EVR is a Direct vacuum regulator 
The EVR directly controls vacuum pressure by throttling flow between the vacuum supply pump and the process in order to precisely control the process vacuum to a specific setpoint. The EVR is a non-relieving regulator intended for processes where at least a very small gas flow is present at all times.
If your process is gas-tight, an Equilibar application engineer can discuss easy methods of providing a small gas bleed in the process.
Equilibar EVR is NOT a Vacuum Breaker
Equilibar vacuum regulators are not vacuum breakers, which let gas into the system to control pressure.
Note: While the EVR pilot regulator lets in air, similar to a breaker, the amount of air is less than if you were to use a breaker to control
vacuum within the whole system.
Learn more about the difference between a vacuum regulator and vacuum breaker.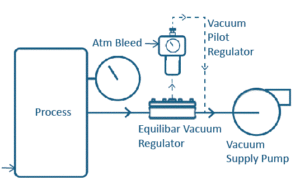 The EVR
directly controls
vacuum pressure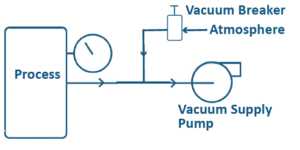 A vacuum breaker lets ambient air into the vacuum system to control the vacuum pressure
Equilibar Vacuum Control Products
Request a Quote
KEY PERFORMANCE ADVANTAGES
Dramatic Stability Improvement
The Equilibar EVR holds vacuum pressure stable across varying supply pressures. Traditional vacuum regulators are often sensitive to vacuum supply pressure, whereas Equilibar vacuum regulators effectively isolate upstream pressure from varying supply. The chart at right shows the excellent flow stability of the 1″ Equilibar® EVR.
Smooth Computer Automation
Equilibar vacuum regulators respond instantaneously to changes in vacuum supply or setpoint pressure. An electro-pneumatic vacuum pilot regulator can be combined with the EVR for smooth automated computer control.
Temperature and Chemical Compatibility
Equilibar vacuum regulators are available in 316SS, anodized aluminum or PVC, with O-rings and diaphragm materials to meet the needs of the most challenging vacuum environments. Certain designs can withstand process applications with ultrapure and aggressive chemical fumes and moisture. Options are also available for high temperature performance.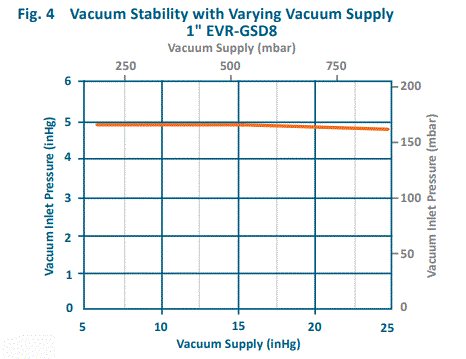 ---
SELECTING THE RIGHT SIZE
The chart at right shows the projected vacuum performance at various EVR body sizes, listed by inlet/outlet port size. To select the optimum size for an application, use the graph to find the smallest regulator that has acceptable vacuum variance in the flow range of the process application.
For example, for flow rates between 5 and 20 standard cubic feet per minute (SCFM), the 3/4″ regulator has about 0.7 inHg drop in vacuum and may be acceptable for some applications. The 1″ regulator, however, has about 0.25 inHg drop in vacuum in that same range. Choose the size that meets your process variation requirements.
If flow rate is unknown, select the Equilibar® vacuum regulator to match existing pipe size or contact an application engineer for assistance in choosing the correct size.
For more details visit the EVR Performance page.
---
INSTALLING THE EQUILIBAR® EVR
To install an EVR, simply connect your vacuum supply pump or to the Outlet port. Connect the process that you want to control to the Inlet port. Ensure there is a small amount of gas bleed into the system. Start the system and adjust vacuum pilot regulator knob to achieve the desired vacuum level.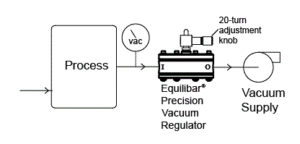 Request A Quote
Download a Brochure
Video of Equilibar EVR
Watch how the EVR works and how it may be manually adjusted or electronically controlled.
To view Equilibar high flow vacuum valves in action,
follow this link
to our YouTube channel.
Applications and Customer Case Studies