GSDM6 General Service Back Pressure Regulator
Port Sizes:
Max Pressure (Std Body Mat'l)
Body Material (Standard):
Body Material (Optional):
Max CV:
Key Applications:

Pump Recirculation Loops

High Viscosity Media
Product Description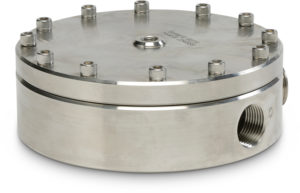 The 3/4″ GSDM6 back pressure regulator is intended for pressures between 400 and 800 psig / 27-55 bar(g). Female NPT ports are standard, and BSPP, SAE, or welded flanged connections are available upon request.
GS Series
The GS General Service is a family of back pressure regulators useful for gas, liquid, or mixed gas & liquid service. The General Service design uses Equilibar's unique multiple orifice, direct diaphragm sealing technology to control back pressure with great accuracy where high temperatures, aggressive chemicals, mixed gas/liquid phase media, or other demanding conditions exist. The GS series is a dome loaded pilot operated design. Pilot pressure may be provided by a remote manually adjusted set point regulator or with an electronic pressure regulator to allow automated or closed loop control of your back pressure. The GS series is ideally sized where accurate control is needed in pilot plant or manufacturing scale applications.
Contact an application engineer for help finding the right back pressure regulator for your process.
Videos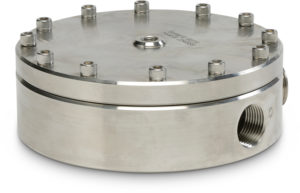 Two Phase Flow Pressure Regulator


Control the Flow of a Pump With a Back Pressure Regulator


How Equilibar Back Pressure Regulator Works

Downloads
Applications
Additional Specs
How It Works
Related Products