This summer, the Journal of Membrane Science published a paper focusing on automated control of Trans Membrane Pressure (TMP) in a Single-Pass Tangential Flow Filtration (SP-TFF) system. Control was substantially improved by using an Equilibar® single-use dome-loaded multi-orifice back pressure regulator (BPR) rather than traditional technologies.
Authored by Shashi Malladi, Michael Coolbaugh and other top Sanofi researchers, the paper, Design of a process development workflow and control strategy for single-pass tangential flow filtration and implementation for integrated and continuous biomanufacturing, focused on single-pass ultrafiltration and diafiltration processes during which a desired protein underwent successive steps to arrive at a final concentration.
Single pass TFF is a relevant innovation for the pharmaceutical industry's shift toward using continuous drug manufacturing—as opposed to batch manufacturing—for improved yield and productivity. Single pass TFF provides for continuous separations while minimizing pump shear by eliminating unneeded, bulky pumps and tanks. It also offers the advantage of reduced processing time.
One challenge of single pass TFF is that design constraints are more critical than in multi-pass batch processes. The Sanofi team discovered that instead of fixed TMP control, SP-TFF requires real-time modulation of the TMP, which is difficult to achieve with traditional technologies. Accordingly, the Sanofi team used an Equilibar® SDO single use back pressure regulator to test a novel feedback control system to maintain the retentate concentration at the desired target. The result of the experiment was a stable six-day run that maintained stable permeate flux with minimal fouling and efficient buffer utilization. The data showed that over the 6-day trial, the TMP was maintained to within 0.4psi, a control window that is not achievable with traditional technology.
The Equilibar SDO is a dome-loaded multi-orifice valve that works by receiving a command signal from the process controller corresponding to the desired TMP. Because the retentate pressure is typically near zero, the set-point to the SDO is effectively the TMP. An electronic pilot regulator converts the signal into an air pressure, and the SDO valve translates the air pressure to the permeate (TMP) pressure with high fidelity.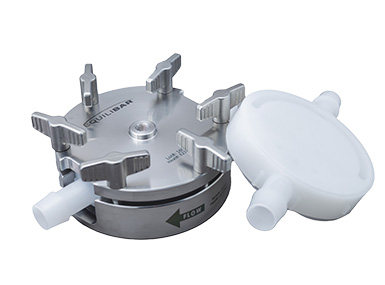 Inside the SDO, a thin and supple diaphragm covers a field of parallel orifices positioned between the main body and a reference cap. As fluids flow through the unit, the diaphragm lifts off the orifices to release pressure once the setpoint is reached. When flow is minimal, only a portion of one orifice will open to release the pressure. When flow is high, the diaphragm is pushed up to engage more orifices. The responsiveness and flexibility of the diaphragm engaging with the multiple orifices result in an extremely versatile flow rate range as well as millisecond response to disturbances. The device's ease of automation is especially beneficial for complex pharmaceutical applications.
The same technology is available in stainless steel using sanitary design elements.
For more information, read our customer case study, which focuses on pressure control, or the journal article, which has a more comprehensive approach.
As always, we invite you to contact our application specialists, who look forward to answering questions about Equilibar technology and learning about your complex fluid control scenario.