Equilibar® stainless steel back pressure regulators (BPRs) use our
unique back pressure control technology
to provide pressure stability through a wide range of flow rates and demanding application condition.
Most Equilibar BPRs are made from stainless steel Type 316 alloy (SS316) or Type 316L (SS316L) for excellent corrosion resistance to many chemicals. These back pressure regulators are machined from cold rolled bar-stock. Regulators with welded connections are typically machined with stainless steel 316L low-carbon alloy. Our regulators can also be machined from SS304 and Hastelloy upon customer request.
Sanitary back pressure regulators are machined with 316L stainless steel.
Stainless steel regulator bodies can be fitted with a variety of diaphragms depending on application temperature, pressure and types of process fluid.
Type 316 Stainless Steel
Type 316 Stainless Steel is a prominent member of the austentitic stainless steels. The addition of Molybdenum give SS316 an overall superior corrosion resistance than SS304 (especially for pitting and crevice corrosion in chloride environments). It is resistant to a wide range of chemicals, including acids, bases, solvents, and marine environments.
While a strong majority of chemicals are suitable for SS316, examples of chemicals that have a severe effect on SS316 are Hydrofluoric Acid, Hydrochloric Acid, Hydrobromic Acid, Ethyl Sulfate, Copper Chloride, Ferric Chloride, Phosphoric Acid, Sulfuric Acid , Silver Bromide, Aqua Regia, Sodium Hypochlorite, Sodium Sulfide.
The Cole-Parmer Chemical Compatibility Database () is an excellent reference. For clients with chemicals that are not compatible with SS316, Equilibar offers regulators made from Hastelloy and 100% PTFE.
Low Carbon SS316L
Stainless steel 316L (SS316L) has the same chemical composition as SS316, except that the carbon content is specified to be in a low and tighter range:
SS316: <= 0.08% Carbon
SS316L: 0.03% to 0.04% Carbon
While the chemical resistance of SS316 and SS316L is considered to be similar for machined components, Grade 316L's lower carbon content is needed to prevent a reduction in corrosion resistance in the heat affected zone around welds. SS316L is equivalent to Type A4 in ISO 3506.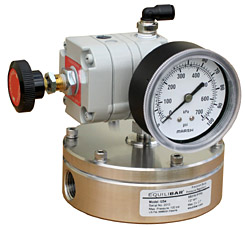 Stainless Steel construction
Stainless steel 316 is the most common material for Equilibar back pressure regulators.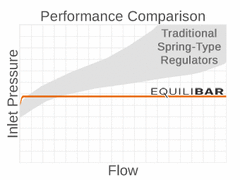 The precision of Equilibar regulators is unparalleled in low and medium pressure applications.
Learn more
about Equilibar's unique performance advantages.